A while back [ok – headed toward 2 years ago now – I'm way behind on blog posts], Creative Market held a Christmas party, giving its employees and community members an opportunity to hang out and interact.  As the Creative Market brewer-in-residence, I was asked to provide some beer for the event.  This would be a general audience event and not a room full of seasoned homebrew beer geeks like I was more accustomed to.   I immediately knew I would want to brew something tried-and-true from my back catalog.  There was also a limited window of time for brewing and being ready in time to serve at the event.  It was no time for wild experimentation or free recipe development.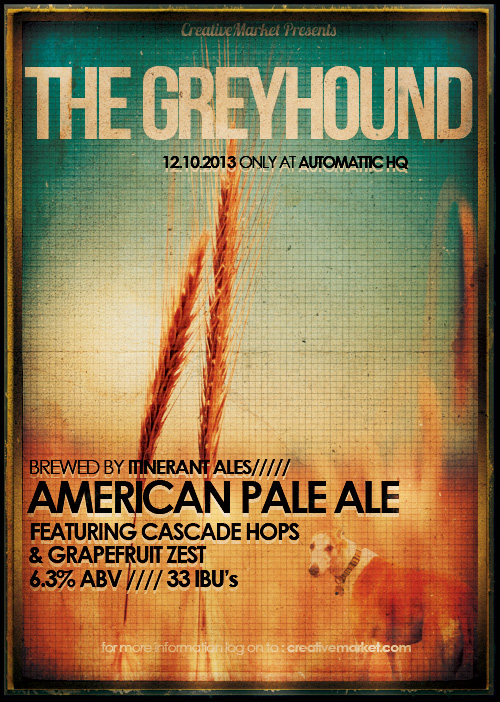 On the other hand, I still wanted to maintain an element of creativity with whatever I chose to brew.  I ended up settling on brewing two separate batches.  First, a coffee stout I called "Kahve Fali," owing to the mix of cold brewed coffee and cardamom blended in post-fermentation.  The second would be a pale ale containing a healthy addition of grapefruit zest.  This one, called "The Greyhound" had its roots in the Brooklyn Brew Shop's Beer Making Book.  The name was a reference to the gin and grapefruit juice cocktail of the same name.
While I usually do 5 or 10 gallon batches and not the small 1 gallon batches that this book is focused on, I still find it to be a great inspiration.  The content is focused on a seasonal approach.  Everything is organized so any special ingredients are most likely to be available during the season that each recipe falls into.  It isn't too much work to scale the recipes up to the larger 5 or 10 gallon batch sizes without greatly affecting the outcome either.
The brews themselves taken care of, I wanted to create some promotional artwork tied to each beer that could be displayed at the event.  This was also a great way to show off some examples of what could be done with the products sold on Creative Market.  When it comes to flyers, there is a good selection of high quality templates available to use as a starting point.  Combining these with additional image assets from the site, it's easy to quickly create a good looking piece of promotional material.
I used this Retro Style Party Flyer customized with some Coffee Pot Graphics for the Kahve Fali poster.  Unfortunately, the template I used for The Greyhound poster is no longer available for sale (Don't worry – even if a product disappears from the store, it's still always available to re-download in your purchase history.  The site also offers convenient syncing of purchased products onto Dropbox.)  If you want to make your own posters or flyers, I'd recommend starting with FlyerHeroes' shop.